So here are 9 tips that will make sure that your outdoor wedding ceremony goes off without a hitch:
1. Permits: Council permits are usually required when you want to use council property for your ceremony (parks, beaches and other outdoor venues). Some of the more popular venues book out very quickly, so it is advisable to contact the local council as early as possible, giving you the best chance to lock in your date. Payment is also required.
2. Rules: Councils always have rules, so ask about their rules on music, noise, lighting and photography at the outdoor venue. Some councils also have rules on whether you can throw confetti, rice or even rose petals at the venue and cleaning up after your ceremony is also a requirement.
3. Make a focal point: Becoming lost in a group of people or even overwhelmed by the beauty of the environment, can easily happen outdoors. To avoid this happening to you during the ceremony, you need a focal point to draw people's eyes. For example a flower-laden archway, a bamboo portico with soft flowing chiffon fabric, seagrass matting on the floor or even a large floral bouquet to highlight the area where your wedding ceremony will take place.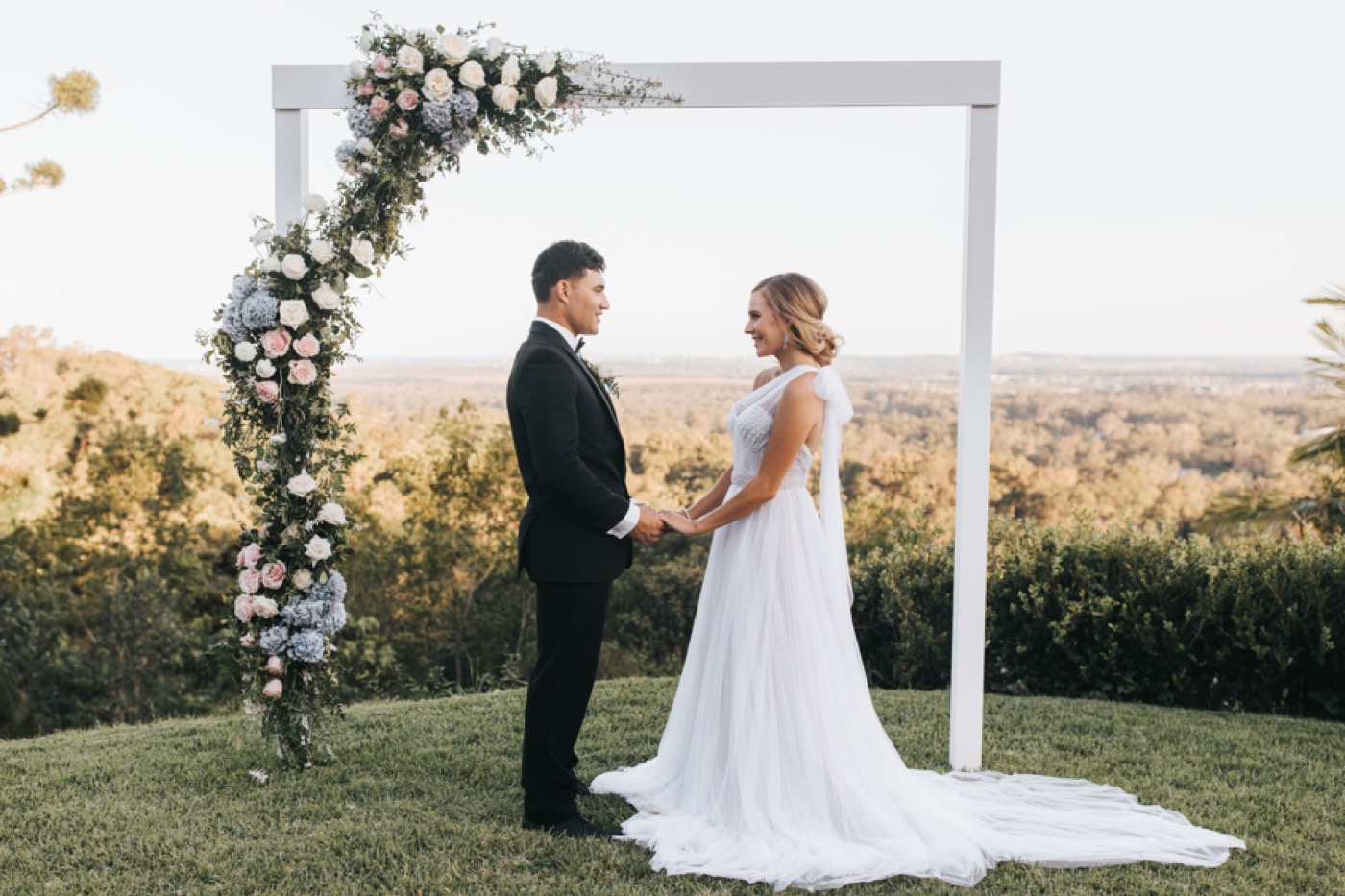 4. Photography: The position of the sun at the time of your ceremony is an important factor in outdoor photography. So ask your photographer about the correct orientation for your guest's seating and the best place for you to stand during the ceremony (having the sun behind your guests is best). After all, you don't want your wedding photos spoilt by too much sunlight or shade - people squinting isn't a good look!
5. Comfort of guests: Make sure that the sun isn't shining in your guest's eyes during the ceremony, and give due consideration to refreshments, shade and sunscreen, as well as protection from mossies. Also, think about how ladies in high heels (as well as yourself) will manage to walk on grass or sand.
6. PA system: Environmental noises, such as surf crashing, planes flying overhead, seabirds screeching or cars honking can mean that your guests have difficulty hearing the ceremony. Hiring a small PA system can make a big difference and allow all of your guests to hear you say 'I do'.
7. Backup plan: Obviously, wedding plans are made months in advance, however despite all of the best laid plans, it can still rain on the day! So make sure that if the weather causes problems with your outdoor ceremony, that you have a backup plan and location ready to go.
8. Other styling tips: Add a little something different to make your event unique, like lawn games for your guests, a beverage station or a cool chill-out area.
9. Hire an event stylist: A wedding can be stressful to organise and outdoor ceremonies come with their own special set of complications. An experienced event stylist however, knows all of the best locations for wedding ceremonies on the Sunshine Coast, as well as the required permits and rules. Your event stylist can help you choose the best venue for your ceremony, organise all of the seating, decorative items, sun shades, flowers, décor and stunning backdrops for a gorgeous outdoor ceremony plus setup and collect it for you (leaving you to sit back and enjoy the day). View our favourite outdoor wedding locations in Noosa.
At Splash Events on the Sunshine Coast, we have designed some of the most beautiful décor and outdoor settings for our clients, from coastal chic, bohemian beach to country elegance. Whatever your style, our team of experts at Splash Events can give you exactly what you need and bring your vision to life.
To view some of our outdoor ceremony photos see our galleries page.
For more information on our events styling for outdoor weddings on the Sunshine Coast, call Splash Events on 07 5470 2468, email us at [email protected] or request an obligation-free quote.