Your arbour, arch or canopy will be one of the first features your guests will see as they take their seats at your wedding and will create a focal point for your ceremony. Not only is this generally the most photographed parts of your wedding, it has a huge significance as this is where you will you will stand to take your vows, have that first kiss and officially become husband and wife!
There are thousands of ways to create the perfect backdrop and they can come in all shapes and styles. If you are not sure what type of arbour, arch or canopy you want for your wedding ceremony, here are a few tips and creative ideas to help you make your decision.
Set the scene: As this is the first thing your guests will see it's important to show the style of the entire wedding and ensure this theme is carried through to the reception décor.
Make a statement: Your ceremony setting is your opportunity to make a stunning statement to represent you and your style for the Wedding.
Floral designs: The use of flowers are perfect for softening the hard lines or edges or a structure and warm the space. Flowers should be consistent with the wedding colours in your theme and capture the spirit of your wedding.
Shape and Size: Wedding backdrops come in all shapes and sizes from a traditional Arch or a rectangular or round Arbour (which are more common these days) or for a more goddess feel a 4 post Canopy with open sides. If you want to sway away from the traditional, you could also have geo metric shapes, vintage doors or even have a bamboo tee-pee!
Materials: Your backdrop can be made of many different materials include raw timber, natural or white bamboo, gum or acrylic elements. You can then decorate your structure with flowers, simple greenery, crystals, flowing fabric, linen, lace , chiffon drapes and accessories. The combination of elements is literally endless!
Accessories: For something a little different you can add in some hanging accessories to complement your theme.
Use of trees: For a more natural feel you can use an existing tree or branch. Although we would advise the use of a professional stylist to avoid any accidents on the day of your wedding.
From the ground up: If you would like something different and non-traditional try creating a space with floral and foliage from the ground up.
Keep it simple: If you already have an amazing natural backdrop, keep the structure simple as to not to take away from the natural beauty.
Take it indoors: You don't have to have an outdoor wedding to use one of these gorgeous structures.
Styles: All of these wedding backdrops can be designed to be very formal or traditional or airy and dreamlike, it simply depends on your vision for your wedding. For example, you can choose a rustic, vintage, coastal, country, boho or classic theme for your wedding.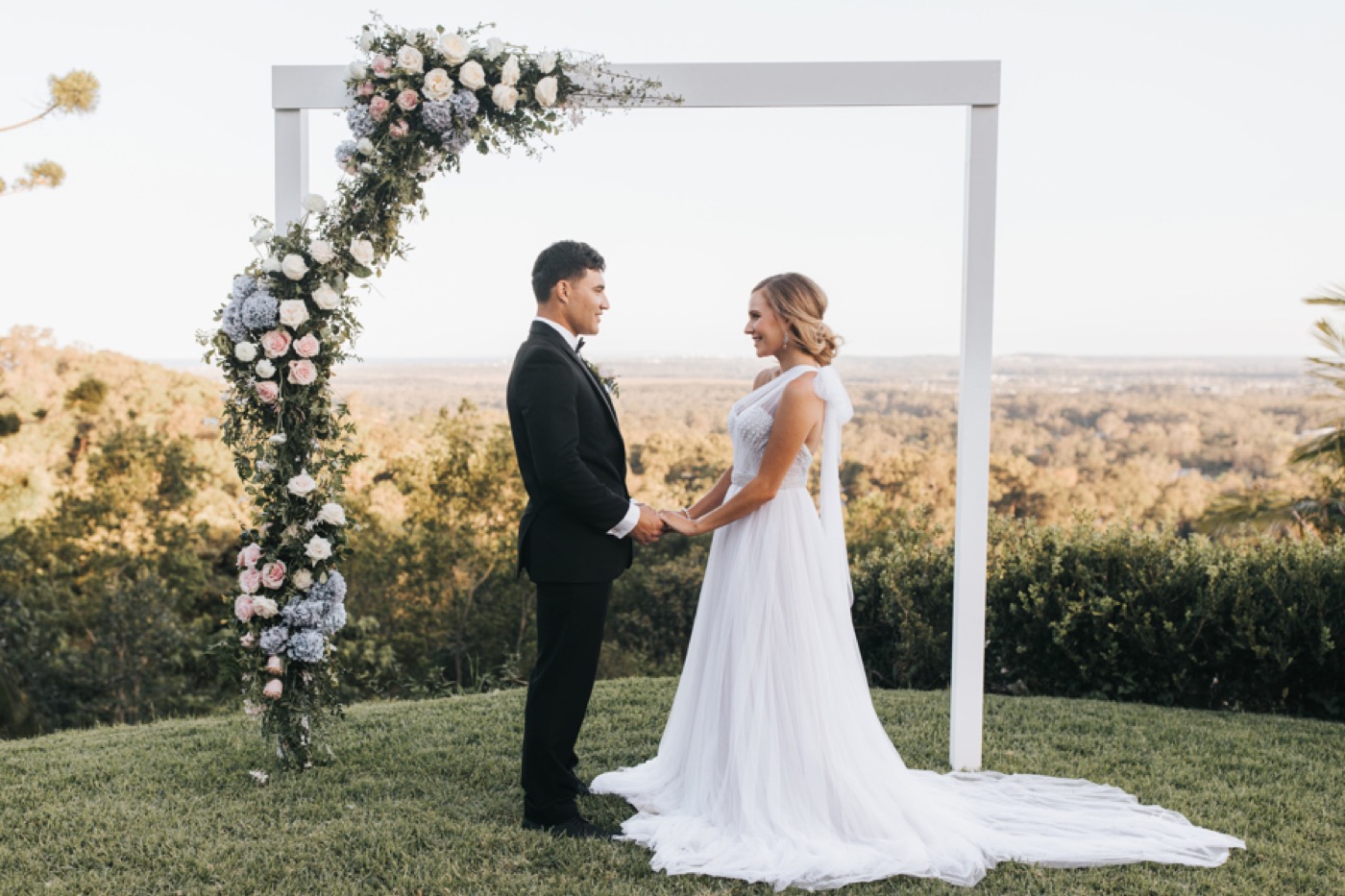 At Splash Events, we have a range of arches, arbours and canopies available for hire, or for a tailored bespoke wedding backdrop, contact us online or by phoning 07 5470 2468.