One way to relieve some pressure is to hire a professional wedding stylist, who will not only create a memorable experience for you and your partner but who will also ensure that your vision comes to life.
WHAT DOES A WEDDING STYLIST ACTUALLY DO?
A wedding stylist will work with you to create the theme and design for your ceremony and reception based on your vision of the perfect wedding day. We will listen to your ideas, unravel your visions and bring everything together into one cohesive theme to create the most memorable day of your lives.
Our professional Wedding stylists will assist you in coordinating décor from our extensive range. We take empty spaces and transform them with colour, flowers, lighting, specialty linens, centrepieces, candlelight, chandeliers, chairs, tables, chic lounge settings and more. We will then deliver, set up and dismantle, so you can totally relax and enjoy your special day or event.
Photo by Kirk Willcox Photography photography at Yandina Station
WHAT ARE THE BENEFITS OF HIRING A WEDDING STYLIST?
Styling ideas: Your wedding stylist will take all of your ideas and create a beautiful setting that truly reflects your unique style, personality and vision for your wedding day. We discuss fresh and unique ideas with you, incorporating your favourites into the styling. We can even create or source items that will add an extra dose of 'special' to your big day.
Choosing a theme: Most couples find that choosing a concept or theme can be very confusing, but each wedding has a core idea, something that brings all of the elements together. This becomes the style or theme for your wedding, which sometimes the bride & groom can't initially see themselves, but with the help of your stylist it becomes quite clear.
Save time: Organising a wedding takes a lot of time, from creating the initial design concept to liaising with suppliers, vendors and venues, not forgetting all of the little details that culminate in the perfect wedding day. All of this can be very time consuming to couples who are quite often surprised at all of the work that goes on behind the scenes. Some couples may allocate responsibilities to their family members or friends to save money but that also means not everyone will be able to enjoy and experience your special day to the fullest.
Experience: Your wedding stylist should be an experienced professional with countless of weddings under their belt. At Splash Events, this is not a part-time job for us, this is our LIFE! We live and breathe events and we're constantly sourcing new décor and creating fresh designs. Not only that, if something goes wrong on your wedding day (and quite often it does) we always have a quick solution that will put everything right.
On the day: All your details will be organised and locked in. All you have to do is relax and get ready, while Splash Events do their thing. We will set up everything for you at the location or venue. We will then return and pack everything up so you can go off and enjoy your wedding night!
Local and venue knowledge: Every venue has different rules and regulations of what can and can't be done, when and how. We are familiar with the best venues on the Sunshine Coast and can give you the benefit of our experience. We can suggest items that will work in the space, even highlight certain features and suggest extra lighting or elements that might be needed to really make your theme work.
Access to the best vendors: It's important that you trust your suppliers so you can truly relax on your Wedding day. With years of experience in the wedding & event industry, we know who will be the best vendor to achieve the requested design within your budget.
Photo at the Noosa Boathouse House. Photographer | Katja Anton https://katjaanton.com/
WHEN SHOULD YOU HIRE A WEDDING STYLIST?
If you are stuck for ideas for your wedding day, have too many or don't know where to start, a wedding stylist can be your saviour. Your stylist will help you to pull all of your ideas together and create a cohesive and beautiful theme for your big day.
Even though we can help you at any stage of your wedding plans, it is always best to hire a stylist at the very beginning, so that you have a clear direction right from the start.
Photo by Lindy photography | https://lindyphotography.com.au/
IS IT CHEAPER TO DIY?
Depending on the size of your wedding, it's often the case that the benefits of DIY will be outweighed by the time and money savings associated with engaging an experienced stylist in the early stages of your planning.
Some couples think that hiring a stylist is a luxury that they can't afford but if you are thinking of DIY your styling and decorations, it helps to take a big step back and look at your overall vision for your celebration, the provisions for set-up and your personal priorities on the day.
Cost might be an obvious reason for going down the DIY path, but it's important to look at the pros and cons, and whether you will realistically have the time to nail it.
Hiring decor is also often cheaper than buying items in bulk and then having to try and re-sell them after your event.
Creating a beautiful wedding within a limited budget is one of the tricks of the trade and an experienced stylist will know just how to get the most out of your budget without compromising on style.
Having said all of that, if you are set on a DIY wedding, it's important to ensure that you are super organised, know exactly what you want, and have sufficient time to pull it all together.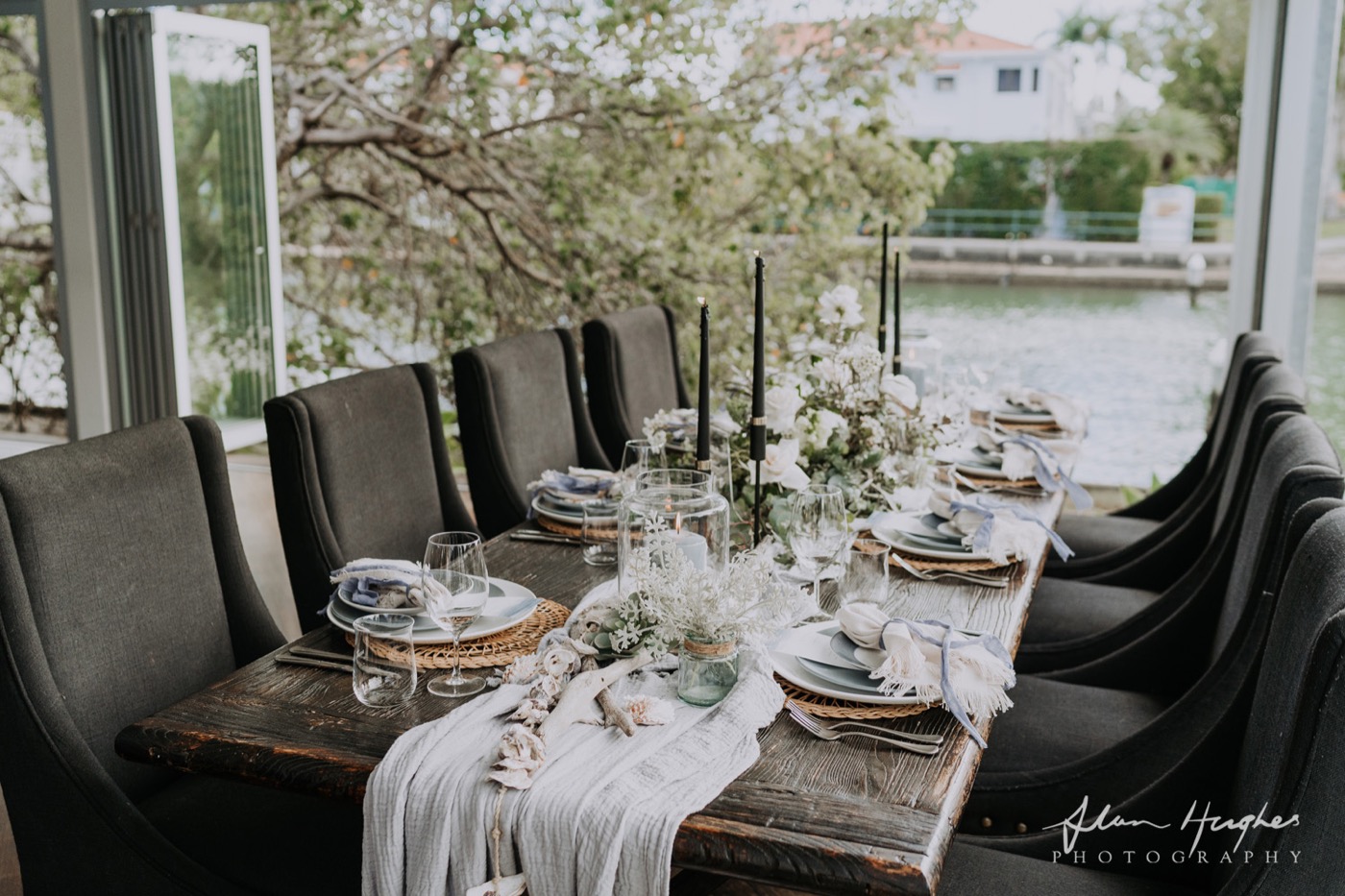 Photo by Allan Hughes Photography at the Noosa Waterfront Restaurant
HOW MUCH DOES A WEDDING STYLIST COST?
At Splash Events our showroom consultations are complimentary with your personal stylist. Generally, our custom wedding designs can range anywhere between the minimum spend of $1,000 up to $15,000 plus depending on the size of your wedding, the style you choose, how much you hire, location and staff required. Each wedding will be tailored made to suit your budget.
We also have other options including ceremony and reception packages at selected venues or a DIY Hire option. With a huge warehouse full of our own decor, furniture and props that we update frequently we can help keep the cost of your wedding down even further.
Photo by Life and Love Photography at Noosa Main Beach
WHAT HAPPENS NEXT?
Select your venue: Whilst we can help you select the right venue for your wedding. Prior to your styling consultation it's important you have secured your location for your ceremony or reception, so that we know what space we are styling for.
Set your budget: If you have a very limited budget, we can suggest alternate elements that might fall closer to your price point without sacrificing the overall look and feel of your wedding. Since we know the wedding market very well and have an extensive range of decor, we can design out-of-the-box ideas to customise and tailor a look that suits your budget.
Discussions: Depending on the service you have booked with us, we will make an appointment with you to visit our designer showroom that is filled with set ups and décor to inspire you!
Quote & proposal: Following your consultation, we will put together a visual proposal, so that you have a very clear understanding of the style and design for your wedding, as well as providing a breakdown of costs. When you have accepted the initial concept design and quote, we will work with you to fine tune your design prior to your wedding day.
On the day: All you have to do is relax on your wedding day, while Splash Events organises everything else. Like invisible ninjas we will set up all of the décor for your ceremony and reception to perfection, giving you a jaw-dropping WOW factor when you walk in. At the end of the day, our team will sneak in and clean it all up for you!
With more than 30 years' combined experience in designing and decorating weddings, at Splash Events we know how to give our clients the wedding of their dreams. See our Wedding Styling Services, download our info pack of get in touch with one of our experienced stylists.